Living walking distance from the Helen Plum Library, also means I have easy walking access to a number of great restaurants in downtown Lombard for lunch or dinner and to meet up with friends. That's why I was excited to enjoy a delicious dinner at the new Babcock's Grove House. Before Lombard was incorporated in 1869, both Lombard and Glen Ellyn were called Babcock's Grove. And Babcock's Grove House was built as a hotel and later renamed The Lombard Hotel. The restaurant is located in the original building.
Lots of windows facing St. Charles Road and Park Avenue give the restaurant an open and airy feel. And the décor is an appealing mix of historic and modern. Very soon, there will be tables on the sidewalk outside for dining alfresco. The tempting menu of New American food includes both healthy and indulgent offerings such as Illinois cheese curds, a variety of burgers and organic salads.  
Babcock.png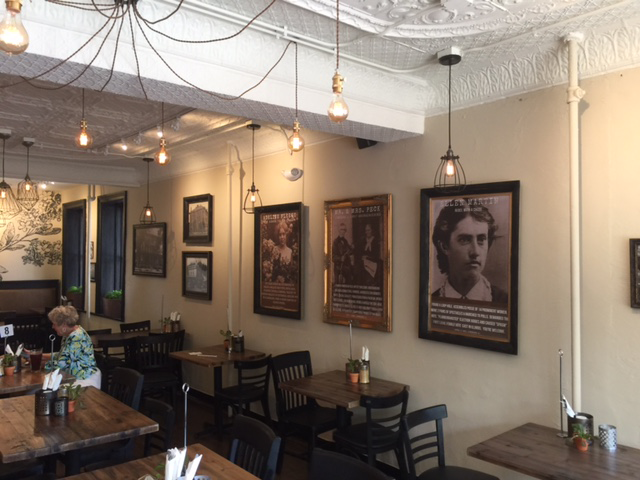 As soon as I walked in, the owners, Dana and Steve Moreau, asked what I had a taste for. Dana recommended the turkey burger. Steve recommended an unoaked chardonnay. The burger came with a choice of sides including organic salad or Belgian fries. When I heard the fries were double fried, I had to try them! They were delicious. And, the turkey shallot burger was seriously the best I've ever had! Although it was the first night open to the public, Babcock's staff were friendly and attentive and altogether it was a wonderful dining experience. I left a very satisfied customer.
I plan to pick up a new book at Helen Plum many times this summer and sit out on the Babcock's Grove House outdoor seating with some tasty food and a good glass of wine. I look forward to trying more items from the menu. I hope to see you there!