Hoopla is here, and we're so excited! Helen Plum Library is pleased to announce the availability of thousands of movies, television shows, music albums, ebooks, audiobooks and even comics. All items are immediately available on demand for mobile and online access through hoopla digital — all you need is a valid Helen Plum Library card! Your go-to resource when it's time for an impromptu movie night or a weekend of binge watching, hoopla also has popular Nickelodeon kid's shows and the hottest music of the year. There's no waiting, even for the most popular items, and the automatic return feature eliminates late fees! 
hoopla.png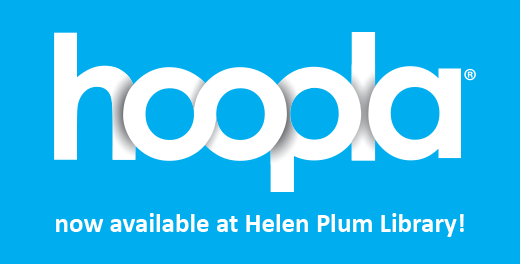 How does hoopla work? 
Mobile Access: Helen Plum Library card holders can download the free hoopla digital mobile app on both Android and IOS devices. Once downloaded to your device, follow the prompts to enter your email address, a password and your library card number. Then begin browsing and borrowing! 
Online Access: hoopla can also be accessed by visiting hoopladigital.com and setting up your account in your web browser to being instantly streaming or downloading.
Come see what all the hoopla's about:
Once you borrow a title on one device it is automatically available on all devices with the digital app and via your PC web browsers and even Amazon Alexa devices. You can also watch video on smart TVs and using Chromecast and Roku.
You can download content to view at a later time (in case you won't have Wi-Fi on that camping trip).
Each library card holder will be allowed to borrow 5 titles a month

Video lends for 72 hours
Music lends for 7 days
Audiobooks lend for 21 days

Access borrowed content as often as you like during the checkout period.
To learn more about this exciting new offering, visit us online at helenplum.org or ask for assistance at one of our service desks.
We hope you enjoy this new service and encourage you to share your experience with us on social media! 
Need a hoopla walk through? Adult Services will be offering several training events for hoopla, find out all the details and register by clicking one of the available dates below:
Hoopla: Your One-Stop Shop Entertainment App
Fri, Sep 14 at 3pm
Mon, Oct 8 at 3pm
Wed, Nov 7 at 7pm
Mon, Nov 26 at 3pm